Community Connect GSM/EDGE Radio Access Network
The smallest, lightest, lowest power consumption carrier grade GSM/EDGE outdoor base station.
Vanu enables mobile network operators to profit in off-grid markets that cannot be covered profitably by using legacy telecommunication equipment and traditional business models. Currently, 1.2 billion people lack connectivity. Vanu helps mobile network operators profit by serving this market.
Off-grid markets require special solutions to profitably and sustainably address this opportunity – an opportunity that is around $5 billion, annually. Vanu's pioneering software radio equipment lowers capital and operating expense to make the off-grid market addressable.
Vanu offers turnkey solutions that include deployment and operations services in addition to towers, transport, and radio access network equipment that is highly optimized for this market. For example, tower solutions are easy to ship and deploy in remote markets. The battery solution not only monitors the health of the system but heals the battery to increase its overall lifetime.
GSM/EDGE is still the dominant cellular standard to serve the off-grid markets. There are a few key reasons that drive this.
GSM handsets are affordable and widely available in these markets.
A GSM handset can last much longer on a single charge, this is of huge value where power is scarce and charging (even for GSM feature phones) costs more than usage charges on a monthly basis
Any solution deployed to serve off-grid markets must include GSM to serve the market profitably. Profitable service is essential to achieve the scale and sustainability necessary to address this large market opportunity.
Description
The Community Connect GSM solution from Vanu offers unique market opportunities with its deployment potential. Our solution is powered by Vanu GSM software which utilizes a latency and jitter tolerant packet-based IP backhaul.  This enables the infrastructure to use a wide variety of media for backhaul including microwave, wireless broadband, cable modem, DSL, and satellite connections. The general purpose processing (GPP) based architecture allows for seamless expansion of existing RAN networks and migration to the cloud. The Vanu BSC interworks with all major core network vendors and the Vanu EMS delivers a multitude of monitored KPIs and alarms.
Vanu Community Connect GSM/EDGE base station is a dual TRX system, designed to support up to 10W per TRX in the GSM 900 MHz and DCS 1800 MHz bands. Operating at 48VDC, the base station (BTS) consumes very low power. The BTS is enclosed in an IP67 rated enclosure and weighs just 9.6kg.
The modular nature of Community Connect BTS design allows for daisy chaining to increase addressable capacity. It can be configured as a sustainable solar powered alternative to the current macro rural BTS.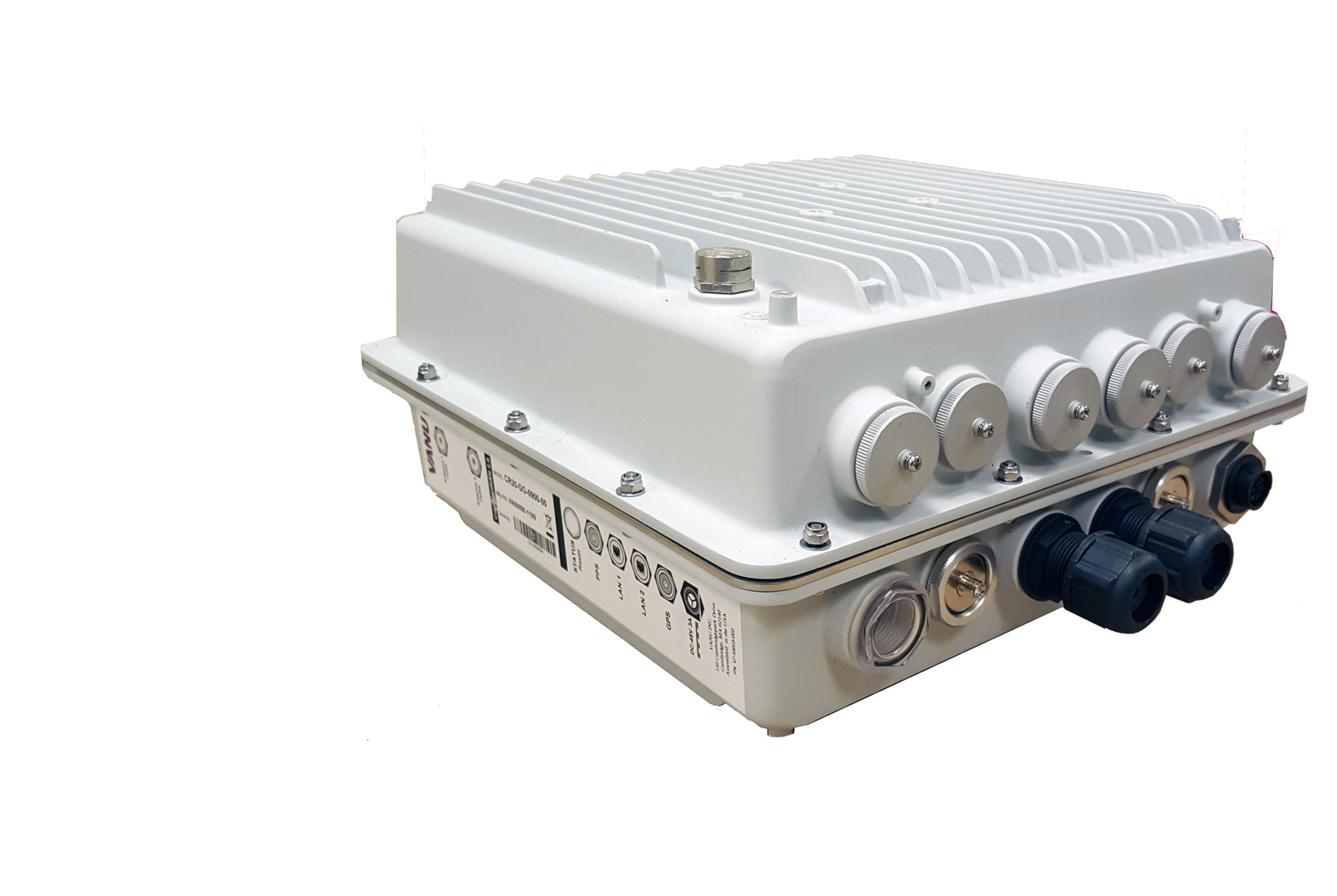 Highlights
SMALLEST, LIGHTEST & BEST IN CLASS POWER CONSUMPTION
The Vanu Community Connect base station is light and has a small form factor simplifying the tower design requirements, resulting in a huge reduction in CapEx. The base station consumes an average of 64W of power at an output of 2 x 10W. This lowers the solar power dimensioning resulting in significant CapEx savings.
EASY TO DEPLOY & EASY TO USE
The Vanu Community Connect solution is easy to deploy and easy to use. Once the BTS is installed on the remote site and powered, it dials home to receive the configuration information. All configuration changes to optimize the radio performance can be done remotely. A low skilled technician can easily fulfill the installation and commissioning of a site.
REDUCED OPEX DUE TO REMOTE MANAGEMENT
All feature and/or release upgrades are software upgrades and they can be performed remotely. There are no hardware upgrades needed. All Community Connect solution network elements can be monitored and controlled remotely after installation. This avoids the need to send technicians to the remote site thus reducing the operation expense of a site.
TOLERANT TO HIGH LATENCY BACKHAUL/TRANSPORT NETWORKS
Vanu's Community Connect solution can support high latency. Its unique design can support voice sessions, including handovers on a high latency backhaul. This combined with local call switching and advanced compression algorithms reduces the backhaul bandwidth requirements.
CAPACITY
Each Community Connect supports 22 Erlangs (with 2% blocking), i.e. 30 simultaneous AMR-HR voice calls.
RX DIVERSITY
Vanu's Community Connect solution supports RX diversity which improves quality and reliability of cellular link and increases cellular coverage.
FREQUENCY HOPPING
The Community Connect solution supports frequency hopping which simplifies frequency planning and minimizes the impact of interference to improve network performance in in harsh radio environments.
STANDARD GSM INTERFACES SUPPORTED
The Community Connect solution uses all standard GSM network interfaces. The Vanu GSM solution interoperates with the core networks of all Tier 1 OEMs MSCs and SGSNs.
MIXED POOL TIMESLOTS
The Community Connect solution supports simultaneous and dynamically allocated support for voice and data sessions through mixed pool timeslots including the ability to prioritize voice calls.
8PSK
Vanu's Community Connect solution supports Gaussian Minimum Shift Keying (GMSK) and 8PSK (Phase Shift Keying) modulations – EDGE MCS1 –MCS9 and GPRS CS1 – CS4.
Technical Specifications
General Specifications
Dual TRX GSM/EDGE BTS
Input voltage 48 VDC ± 20%
Average power consumption:

2 x 2W: 36W
2 x 5W: 56W
2 x 10W: 64W

IP Ethernet backhaul
IP-67 rated enclosure for dust and water protection
Dimensions 310 mm (H) x 310 mm (W) x 165 mm (D)
Weighs < 9.6kg
Triple LED & reset with transparent cap
48 VDC power input
Two RJ45 LAN inputs
Two N-Type TX/RX antenna inputs
SMA GPS antenna input
KEY FEATURES
Power savings:

2nd TRX shutdown
UL/DL power control
DTX

RX Diversity
Frequency Hopping
Smart Paging
SMS Cell broadcast
Automatic BCCH recovery
Idle channel supervision
Backhaul BW optimization

Idle GSM timeslots suppression
DTX and Silence voice frame suppression
RTP Aggregation
Local Call Local Switching
For full specification sheet, please contact Vanu.