New Anywave™4.0 – Dual Mode GSM/LTE Basestation
A product designed specifically for rural markets.
Best of all worlds, near term revenue, seamless migration, more efficient data.
The unique challenges and requirements of the rural market such as lack of reliable grid power, high cost of constructing towers, challenging terrain and low population density make it difficult for network operators to serve the market.  The design of Vanu's Anywave 4 product solves these challenges with solutions that reflect the unique requirements of the rural market and the lessons learned in Vanu's two decades of serving that market.
Description
The new Vanu Anywave 4.0 system is a multiband, multi-standard radio access node.  The system is designed around the same principles of software modularity and portability that were hallmarks of the original Anywave, the first software defined radio product certified by the United States FCC.  The modularity of Vanu software architecture enables the Anywave system to leverage waveform software that has been continuously improved over almost two decades of commercial deployment to simultaneously support GSM and LTE.   The portability of Vanu software allows Anywave 4.0 to use the latest processor technology and novel pre-distortion techniques to deliver a highly efficient small cell.
This highly innovative platform was created with the rural market in mind.  A small box with powerful Vanu developed software that makes it easy to bring connectivity into any off-grid market.  The software was designed to support multiple configurations. This unique approach allows mobile network operators to offer voice connectivity and makes it easy to offer LTE services to meet the demand from data choice users.
Configurations
The base station can be configured as
2TRX GSM/EDGE BTS
Dual mode GSM/LTE
2×2 MIMO LTE eNodeB
In the dual mode GSM/LTE, the base station is designed to support both GSM and LTE standards simultaneously.
A dual mode base station is well suited for rural markets as it offers a cost effective and bandwidth efficient way of offering voice services and high throughput data services.
Deployment
Anywave 4.0 is small, lightweight, and designed to install quickly on existing or new, low-cost towers or poles.
Within rural markets, simplicity of deployment is among the most critical factors for success of any connectivity system.  The complete Anywave 4.0 system is compact and highly integrated, blending dual PA's and the duplexers along with the latest baseband processor and integrated transceiver technologies to support the multiple standards.  The modularity of Vanu's technology addresses different band requirements with relative simplicity. The system uses digital envelope tracking and pre-distortion technologies to linearize power amplifier output while maintaining high efficiency (high power output and low power consumption).
Key Features
Created specifically with the rural market in mind
Simultaneously operates as a GSM and LTE base station.
Vanu eNodeB is 3GPP Rel 9 compliance and is designed to interoperate with any standards complaint EPC.
GSM waveform can be transmitted within the LTE spectrum or separated.
GSM RAN is designed to interoperate with standards compliant MSC over the A interface.
Compact and lightweight.  Lowers the site costs due to reduced wind and weight load requirements. Faster and cheaper to transport to remote areas and it is easy to install on existing infrastructure.
Low power consumption. Lowers the site capital costs due to smaller solar, wind, battery and/or generator costs; lower operating costs for sites connected to electrical grid.
Housed in a thermally efficient IP67 enclosure designed to weather the harshest environmental conditions in the most remote areas.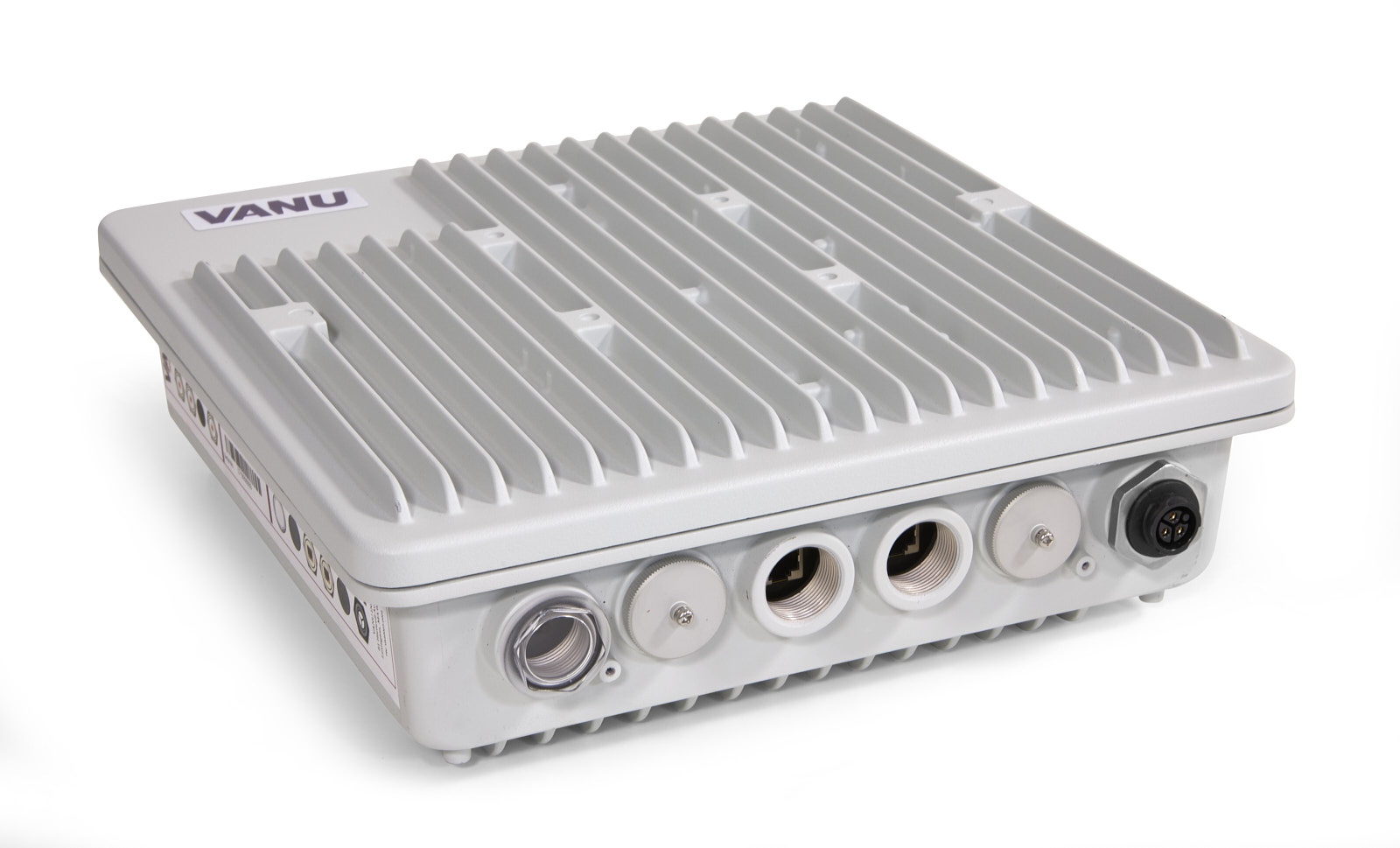 Highlights
EFFICIENCY/LOW POWER CONSUMPTION
Lower site capital costs due to smaller solar, wind, battery and/or generator costs; lower operating costs for sites connected to electrical grid
SMALL FORM FACTOR AND LIGHT WEIGHT
Lower site costs due to smaller wind and weight load on tower; faster and cheaper transportation to remote areas; easy to install on existing infrastructure
TOWER TOP MOUNTING
Can more than double power efficiency by reducing cable losses, eliminate TMA
"PHONE HOME" CONFIGURATION
Lowers cost and simplifies deployment – field technician does not have to configure on site.
REMOTE OPTIMIZATION
Remote Reduces maintenance costs by eliminating most site visits.
IP 67 ENCLOSURE RATED FROM -20° C TO 55° C
Sealed to eliminate water, dust, and other environmental intrusion concerns, but thermally-efficient
Technical Specifications
Description
The eNodeB design is modular in nature and can readily be adapted to support any of multiple FDD bands. The small cell supports bandwidths up to 20MHz with a peak throughput of 140/40 Mbps DL/UL and supports up to 64 active UE's. The small cell is designed for a TX output power of up to 5W per antenna port, 10W combined average power.
LTE SPECIFICATIONS IN DUAL MODE OPERATION
• 3GPP Rel 9 Compliance, Rel 10 compliance on RRC, S1 and X2
• Channel BW up to 20MHz
• Up to 64 active UEs
• Peak throughput of 140/40 Mbps
• TX output power up to 10W
GSM SPECIFICATIONS IN DUAL MODE OPERATION
• TX output power up to 10W
• Static RX sensitivity -104 dBm
• Better than 0.05ppm frequency stability
• AMR-FR/HR, GSM-FR, GSM-EFR
• GPRS CS 1-4, EDGE MCS 1-9
• A5/1, and A5/3 Ciphering
• 15 simultaneous voice calls with GSM FR
• 30 simultaneous voice calls with AMR HR
PHYSICAL AND ENVIRONMENTAL
• Dust and water protection IP-67
• Operating range -20°C to +55°C (passively cooled)
• Storage range -40°C to +75°C
• Overall dimensions 310 x 310 x 95 mm
• Weight < 8 Kg
CONNECTORS AND I/O
• Triple LED and reset with transparent cap
• -48 VDC power input
• Two RJ45 LAN inputs
• Two N-Type TX/RX antenna inputs
• N-type GPS antenna input
VOICE SERVICES
• CSFB to GERAN
• VoLTE
MOBILITY
• S1 and X2 based handovers
• Inter/Intra frequency handovers
SON
• Automatic PCI Selection
• Automatic Neighbor Cell Relation (ANR)
RRM
• Connection Admission Control
• Radio Bearer Control
• Radio Resource Allocation
• Power Control
CONFIGURATION MANAGEMENT AND ALARMS
• Configuration Center GUI configuration management
• Configuration GUI Alarm Management
• KPI's logged in cloud
• KPI reports on demand
GSM SYSTEM FEATURES
• Link adaptation
• DL/UL power control
• Abis optimization
• Idle GSM timeslots suppression and Silent Voice Suppression
• DTX and Comfort Noise Insertion
• RTP Aggregation and Multiplexing
• Local Call Local Switching
• Smart Paging
• SMS Cell broadcast
• A-Flex